Thanks for the Memories...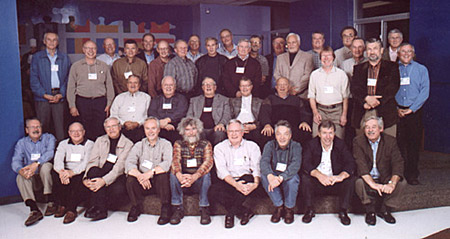 Front (l-r): Mike Weber, Marvin Helm, Gord Grechulk, Felix Michna, Eugene Bourgeois, Paul Olinski, Jack Paleczny, Jim Feeney, John Cosman
2nd Row : John Beard, Bill Klos, John Theis, Ray Reitzel, Don Targosz
3rd Row : Jim Trznadel, Jim Reinhart, Jim Goldenbogen, Basil Olijnyk, Tom Goldenbogen, Don Schilling, Leslie Slowikowski, Keith Wheeler, Wilf Scanlan, Richard Balge, Michael Curtin, Matthew Scholtz, Pat Lavigne, (David) David Kachik, Mike Rolt, MTom Kehn, Mike Grace, Doug Beingessner, Walt Nudyk, Steve Chris, Rick Wehrle
Posted by: Matt
This is The Email That Started It All
From: Felix Michna
To: pjolinski@babcock.com ; Matt Scholtz ; cosman@coppcosman.com
Sent: Tuesday, April 26, 2005 10:30 AM
Subject: 100th Graduating class


Dear Paul, Matt and John (I don't have Basil O's e-mail)



When I was in Kitchener back in February, Paul and I had a great time reminiscing about our high school graduating class –the 100th in 1964. (To top it off, I saw Fr. Bernie Hayes and Ray Reitzel at St Louis church that same week-end, both of whom had a part to play in our St. Jeromes' years). Maybe it was just those years catching up with me, or maybe it was the Tim Horton's coffee conversation we had, but I started wondering if it wouldn't be an idea to organize a 1964 High School graduating class re-union next year. I know it doesn't coincide with any milestone decade event. But I figured there were 2 good reasons to think about it : 1) the 100th graduating class of St. Jerome's H.S. never had a reunion and 2) the vast majority of that class will be celebrating our 60th birthdays in 2006 (maybe it could just be a great big birthday party re-union). I know that there are still several of our old H.S. teachers around and I'm sure they'd be pleased to participate.



I know it sounds a bit off the wall, but I'm confident the 5 of us could pull it off. What do you think?



Felix
Posted by: Matt
Reunion Participants
Richard Balge

John Beard

Doug Beingessner

Eugene Bourgeois

Steve Chris

John Cosman

Mike Curtin

Jim Feeney

James Goldenbogen

Tom Goldenbogen

Mike Grace

Gord Grechulk

Fr. Bernie Hayes

Marvin Helm

Dave Hickman

Wayne Kachik

Tom Kehn

Fr. Dominic Kirwan

Bill Klos

Pat Lavigne

Fr. Terry McGuire

Felix Michna

Walt Nudyk

Basil Olijnyk

Paul Olinski

Jack Paleczny

Jim Reinhart

Fr. Ray Reitzel

Mike Rolt

Wilf Scanlan

Don Schilling

Matt Scholtz

Les Slowikowski

John Theis

James Trznadel

Adrian Vath

Mike Weber

Richard Wehrle

Keith Wheeler

Posted by: Matt
Reunion Weekend Program & Registration
St. Jerome's High School Reunion
Class of 1964—the 100th
PROGRAM OF ACTIVITIES
SEPTEMBER 30 AND OCTOBER 1, 2006
Saturday

▪All activities on Saturday at St. Louis Adult Learning Centre, 80 Young St., Kitchener, formerly St.Jerome's High School. Classmates only for Saturday.
▪Parking available on the old football field ▪Casual attire for both days
▪Registration fee for Saturday's activities is $85 payable in advance. Send cheque payable to Dr. Basil Olijnyk at 77 Water St., N., Kitchener N2H 5A6; or phone his office Mon. to Thurs., (519) 576-8160 or fax (519) 576-2906 and pay by Visa or MasterCard. E-mail is dcshank@bellnet.ca
PLEASE PAY REGISTRATION FEE BY SEPTEMBER 1st. Donations beyond fee also accepted.
▪Bring memorabilia (marked with your name on a sticker) for display table.

3:00pm Committee gathers; building opens for early arrivals

5:00pm Structured tour of the 1907 St. Jerome's building on Duke St., re-opened as the Faculty of Social Work of Wilfrid Laurier University; self-directed walking tour of classrooms, lockers, hallways, cafeteria in other buildings

6:00pm Reception in our old Cafeteria—now used as a cafeteria again: canapes, fingerfoods, cheese board, punch (non-alcoholic due to regulations)

7:30pm ▪Dinner prepared on site and served by students of the St. Louis Chef Training program: Caesar's salad with warm bacon & brioche croutons, roasted prime rib of beef with a wild mushroom & peppercorn sauce, garlic spun potatoes & seasonal vegetables, citrus sorbet, caramel pecan cheesecake with vanilla roasted peaches and chantilly cream. Served on a placemat of a collage of excerpts from the '60's newsletter, Alma Mater
▪Birthday cake and wishes for those celebrating 60 years in '06
▪Toast to Teachers
▪In Memoriam
▪Messages from those unable to attend
▪Interactive "snapshots" slide show (CD given to all as a souvenir)
▪Draw for print of painting of Father Funcken statue and gold plated pen/pencil sets with SJHS crest
▪Group photo and candid shots to be taken and mailed to all as a souvenir

10:00pm Formal activities end; retire to Barrister's Lounge at Walper Hotel

11:00pm School closes

Sunday NO ADVANCE REGISTRATION IS REQUIRED for Sunday

11:00am ▪Mass at St. Mary's Church (traditional location of St. Jerome's graduations)
▪Spouses and partners of classmates are encouraged to attend; please sit together in area of church marked reserved
▪Officiating priest, Fr. Bill LaFlamme, will acknowledge the class of 1964—the 100th; organist and choir will lead us in singing the school song as finale

12:00pm ▪Reserved buffet brunch in the Crystal Ballroom of the Walper Hotel (location of Graduation Ball, Saturday September 26, 1964)
▪Cost is $10 (plus tax and gratuity) per person paid directly to the hotel
▪Closing remarks—till next reunion in ?????

www.stjeromesreunion.com
Ad Deum per Gratiam et Sapientiam
Posted by: Matt
The Hits of 1964
Remember the Hits of 1964, the year of our graduation? Actually, do you want to learn just
what the heck the lyrics were to those songs?
Then check out this website:

getretro.com/HL/1964music.htm
Posted by: Matt
Where Are They Now Department?
This will become a regular cumulative feature of our website: reports on our grads and where they been and where they are now:


John Beard

After graduation from St Jerome's and a year at college I started my business career right next door to the high school at A. & C. Boehmer Limited, a box company on Duke Street established in 1874. I worked my way through the administration for 7 years, continued in the same industry for 3 years at Reid Dominion Packaging in Hamilton, 2-1/2 years at Chant Paper Box Company in London and finally back in Waterloo as President of Beresford Box Company Ltd. In 1989 I decided to move on and in 1991 started my own box and printing organization called Resource Print & Packaging Inc. (www.resourceprint.on.ca) in Kitchener, where I still spend more time than my wife says I should.

I met Carole Sauve, a great St Mary's girl in 1964 and we were married in 1967. We have 2 children, a boy and a girl, both married, and 2 fantastic grandchildren, all of whom live in our area. We get together often and enjoy every minute. We built our third home in St Jacobs in 1978 where we've lived ever since. However, as empty-nesters we have just recently sold our home and have bought a bungalow condominium unit in New Hamburg, which has yet to be built, and will be moving at the end of September.

Over the years we've been active in many community organizations and associations and now let the next generation carry the torch. We still enjoy a variety of recreational activities which includes travel, golf and grand parenting.
I look forward to our reunion in the fall.



Doug Beingessner

After graduating from St. Jeromes I attended W.L.U. in the Honours Business program and embarked on a career in the home furnishings industry. In 1972 my father became ill with cancer and I took a leave of absence to wind up his affairs. Growing up I always wanted to forge my own direction and had little interest in following my dad's footsteps. That is until I discovered what a fine business he had developed in his abbreviated career. The decision to continue in the home renovation industry gave me the opportunity to develop a fine company called \"BEINGESSNER HOME EXTERIORS\". Our offices, warehouse and showroom is located in St. Jacobs.
Next year our company will celebrate 50 Years in business.

In 1970 I married my high school sweetheart, Lynne Grein and we have two fine children..Chris and Jennifer, and of course two terrific grandchildren.

Over the years I have been involved in various initiatives to improve our industry. I am a Past President of the Siding and Window Dealers Association of Canada. I am still very active travelling across Canada teaching courses in Building Science, Window Technology, and Energy Efficient Installations.
I am also a committee member of CSA, dealing with the development of installation standards for the the window and door industry.

Retirement??...As soon as I stop having fun in this corner of the playground.

Ross Benn
Retired two years ago after a busy career in computers. Three children, two
daughters Laura, Kelly (27 & 31)and a son Andrew (21). Remarried. A step
daughter (my other daughter Laura) and a step grandson (4).
I attended the University of Waterloo. Got interested in computer science.
After graduation got a job at the University of Waterloo's computer centre.
Later became a programmer for Air Canada Reservation Systems Toronto
Relocated to the Lakehead in 74, first wife missed her family.
Worked for the Corporation of the City of Thunder Bay as a programmer and
systems programmer. Wrote the first real-time applications for the tax and
telephone departments.
Thought that I would become an entrepreneur. Started Management Information
Systems Thunder Bay. A computer consulting company also retailing computers
and computer software.
Got the offer I couldn't refuse. Became the first Director of Computer
Services BDO Dunwoody Thunder Bay. Created, launched and managed the
computer division of the accounting firm.
Tried my hand as a Professor Confederation College www.confederationc.on.ca
Thunder Bay. Taught computers naturally, accounting, mathematics, economics,
computer programming and even retrained the unemployed adults.
Two years before I retired, I worked as a Senior Business/Computer Analyst
with Keane Inc. (www.keane.com) Minneapolis MN. It was quite an experience
working in the States. I worked my first Good Friday ever. Christmas wasn't.
No Christmas tree or cards or anything.
Retired in 2004. My wife Susan and I are enjoying the good life. Should have
retired earlier.



Eugene Bourgeois
I graduated from UW with a batchelor of independent studies, then a master\'s degree in philosophy. While writing my master\'s thesis on magic I built our farm house, and then our sheep farm, hoping to grow wild mushrooms. Instead, I started The Philosopher\'s Wool Co.. www.philosopherswool.com, that now buys and processes some 5% of Ontario\'s fleece.

We have 3 children. Our oldest daughter, with her husband and 3 grandchildren, live in a house at one corner of our farm. Our other two children live in Toronto.
Ann and I spend approximately 5 months of the year, 3 of them winter months, touring North America teaching people to knit our designs and learn our technique for fair isle knitting that has become a global standard.
Our farm activities have been reduced to 20 ewes and we are currently (end of May) lambing, with 4 of 14 expectant mothers producing twins. An errant ram discovered 6 ewes who were more than willing and receptive, yielding 8 lambs while we were away this winter, much to the delight of our support staff here then.
9 hens provide us with a handful of eggs daily and we will soon have 25 baby chicks.
My endeavors at producing wild mushrooms have been remarkably unsuccessful and I am left picking over 40 varieties for the table in the wild. Morels are just about finished for the year, while oysters and glistening inky caps are just starting.

I have some current unidentified species waiting for volunteers to try. They might be delicious.
Eugene

John Cosman
John attended U of Waterloo majoring in History and then Osgoode Hall law School. He articled with Vernon Copp in Galt and has practised in Cambridge as Copp & Cosman for 33 years.
John married Connie Keleher of Hespeler where they now reside. They are DINKS (double incomes no kids). John was active in the Progressive Conservative Party (until it imploded) and now enjoys travel, golf and his nephews and nieces.

James Goldenbogen
Married a girl from Detroit, Dottie. We have four children Jim, Amy, David, and Laura. Also we have a two year old grandson, Trevor, who occupies a lot of my quality time. Took a long time to finish University with degrees in both Chemistry and Biology. Spent some time running a SCUBA diving shop before starting a 29 year career with General Motors. Retired in April of 2005. Worked as an independent contractor and now am enjoying real retirement, fishing and sailing.

Thomas Goldenbogen
Married Pat Dziura. We have 4 girls : Kim, Sharon, Mary & Therese and eight Grandchildren. I had a career as a CFO in several Hospital's and have reciently retired to become Mayor of the City of New Baltimore following My Mother and Grandfather.

Gord Grechulk
He has been retired for two years as a lawyer for the City of Burlington. "Upon graduation from WLU, Gord attended law school at Osgoode Hall Law School in Toronto where he met up with John Cosman again.After graduation from law school and
admission to the Ontario Bar,Gord joined the City of Burlington as a municipal solicitor and litigator.
His wife(from Galt's GCI) and Gord raised a daughter and twin boys who all went to Aldershot High School in Burlington.He mentions Aldershot because the high school sport team is called the Lions and the school colours are Green and Gold.
Gord is now retired and is keeping in shape by running after and lifting three grandchildren.
He periodically runs into Paul Agro one of our former gym teachers."


Marvin Helm – the dancing fool. After graduation – started working on a career in accounting in the Manufacturing World. I continued to teach dancing in Toronto on weekends at various studios – free-lanced in this area – the money was good and it was fun. Married the love of my life ~ Linda, purchased our home and settled down and created two sons, Michael and Christopher. I went back to night school at Conestoga College to pick up CMA courses. Got involved with the Insurance Business – went to Trent University and attained the C.I.A.A. majoring in Insurance Accounting. I have been employed with Gore Mutual Insurance Company in Cambridge for the last 25 years as their "Reinsurance Accountant". Life is good! Looking forward to seeing my classmates – time changes us – giving you the heads-up – I am heavier and thin on top – but still wear glasses.




Mark Jaglowitz.

Upon leaving St. Jerome's I entered the Congregation of the Resurrection ( the same order that taught at St. Jerome's). My great uncle was Superior General of the order and my two uncles were priests in the order, both teachers of seminarians, one in Italy the other in Kentucky. Upon deciding that the celibate life was not for me, I left the order and completed my Honours degrees in English at St. Jerome's University (back to St. Jerome's again). I then took my MA year in English at the University of Waterloo where I was recipient of a graduate fellowship signed by none other than Bill Davis.
I began my teaching career at St. David's in Waterloo where as part of the English Department we had meetings with the English teachers at St. Jerome's including a former teacher of mine Bill Klos. Shortly thereafter I married a wonderful girl from Toronto Mary Dunn and had two daughters. My oldest daughter Laura works at Dalsa and her husband works at Open Text. I have one grandson.
Leaving St. David's I travelled throughout the wonderful countryside and urban areas of Waterloo County primarily teaching English as a Second Language (ESL). It was a special opportunity to be able to work with new Canadians and experience their joy of learning.
I retired at age 54 (Freedom 55 -- forget it) and began meeting with various ministries of the government in order to eventually help establish the first medically fragile and technologically dependent group homes in Ontario at Sunbeam in Kitchener. Please note that Sunbeam is located at the former site of Resurrection College where the Congregration of the Resurrection used to teach seminarians. There does seem to be some connection here with St. Jerome's. My youngest daughter Lisa, who just turned 20, lives in one of those group homes at Sunbeam.

Along the way I was President of the board of KW Extend A Family and on the board of the Spina Bifida and Hydrocephalus Society of Ontario.

In my retirement, I continue to volunteer, read, work on my hobbies, party, spend my summers at my cottage at Conestogo Lake and generally enjoy all that life has to offer.




Tom Kehn
Tom confessed that he didn't do as well as might be excpected in physics in high school, but is now the supervisor of undergraduate students in Physics at the University of Guelph.

Felix Michna
After obtaining his degrees from the University of Waterloo and University of Toronto and subsequently lured by the lyrics of "Four Strong Winds", Felix and his bride left for Alberta in 1971. Determined initially to stay "for just a spell", they've been enjoying cowboy/oil country for nearly 35 years, though they still can't get used to country and western music.
Felix worked in Edmonton as a City Planner for several years before moving to Lethbridge to create the City's new Planning Department and serve as its Director. He is presently in charge of the City's residential and industrial land development operations and is a sessional instructor at the University of Lethbridge.
Felix does volunteer work for the Canadian Executive Services Organization. Recent projects have taken him to southern China to assist in designing a new satellite city and to the Northwest Territories to provide advice to a First Nations group on developing a community plan. Jeanne and Felix's pride and joy are daughter Jane, son Paul and daughter-in-law Nina.


Brian Murphy

I am one of those in the Class of '64 who did not actually formally "graduate" with a diploma (having already failed before to do so with my friends in the class of '63!). Let's just say that other things on my mind, and repeated suspensions for wayward thoughts and unruly deeds, got in the way. Alas, as these things turn out, no harm was done (although perhaps the Resurrectionist Fathers would disagree!) and I have had a life anyway, and have wandered much of the world, and into the 21st century, and my 60's, with eyes still wide and just about as wayward as I was back in the slumbering 60's. Along the way, somehow education happened -- the formal kind and the other kind that life offers -- ending with an MA specializing in international adult education from the University of Ottawa in 1973. Then I went back to the world, never to darken any door again as a student -- although I now find myself called upon to address folks in university settings in a way that I never imagined I would back then, let alone while at SJH in 1964!

The interest in adult education came from my own sublime experience as a student, and later working in adult literacy and academic upgrading at Conestoga College and then Algonquin College in Ottawa. The international interest came during a stint in-between, working with CUSO in West Africa during 1968-70, mostly in Nigeria during the Biafra crisis. All of this merged, as things sometimes do, into political activism and organizing on issues of poverty, literacy, human rights, especially immigrant and refugee rights, racism, militarism & peace, violence against women, and a host of other issues. In all of this -- as with most of us, I guess -- life has been a series of transitions, tragedies, trials and triumphs. For the past almost three decades, since 1979, I have part of the team at Inter Pares , based in Ottawa, where my work has involved program development, political analysis and social justice advocacy in Asia, Africa, Latin America and Canada. Along with untold adventures, I have left a slew of articles in my wake, one small book that I am proud of, and chapters in a few others, and I have had fun in the doing of the doing and the writing of the writing. And now I'm leaving Inter Pares this summer (2006) for a rest, and adventures yet unknown.

My life is enriched by two grown sons forging their own unconventional way, a loving marriage that survived the pain of eventual break-up to remain an enduring friendship, a blessed relationship with a companion who breathes beauty and meaning into every day, and far more friends around the world than any one person deserves. I will probably not be able to make the reunion, but I will celebrate our lives anyway. Enjoy! May you honour your memories and follow your dreams...


Walter A. Nudyk
B.A. 1968 (Economics & Computor Science) – St. Jeromes College – University of Waterloo
Chartered Accountant 1972 after articling with McCauley,Robertson,Bissell & Holman( now KPMG ) finishing with Clarkson Gordon & Co
Married 32 years to a super wife Irene. Three sons Scott, Brad and Gary.
Five grand daughters, two grandsons, two great grandsons and one great granddaughter.
Retired May 2004 after 30 years with Steed and Evans Limited, where I was a co-owner and the Chief Financial Officer.
In retirement I enjoy the family & grandchildren when Irene and I are not traveling, fishing on our fishing boat, cruising on our Cruiser at Lake Couchiching. When time allows, I enjoy golfing and playing cards.
Currently, member of St. John the Evangelist Church , Elora and the Westmount Golf & Country Club , Kitchener and Bridgeport Rod & Gun Club.

Past involvement over the years include:
- Ukrainian Catholic Church of the Transfiguration (Kitchener) – Youth Group
President, Church Treasurer, Building Fund Treasurer.
- VP Ukrainian Club- University of Waterloo
- Treasurer Kitchener Lions Club and founding cochairman and treasurer of Altes Munchen Haus (Oktoberfest Hall)
- Gilwel Cub Leader of cub pack at St Anthony Daniel Church
- Past Governor and Land Acquisition & Building Chair of St John's Kilmarnock School (Elora & Breslau)
- Treasurer & Executive Member of the Aggregate Producers Association of Ontario
- Treasurer & Committee Director Kitchener-Westmount Rotary Club, during which time was the Committee Director starting the first Rotary Probus Club in Kitchener-Waterloo
-


Basil Olijnyk
Graduated from U of Waterloo in 1968 with B.Sc. Life long dream achieved when accepted into dentistry at Western in 1968. Married in 1970 to Olga, blessed with 3 sons and a grandchild due in March. Since 1972 have practiced Family and Cosmetic Dentistry a block from St. Jerome's, often recalling the friendships, school spirit and grateful for the academic experience.



Paul Olinski
Paul ,the Chair of our Merrie Band, has been around the block a few times. Paul has worked at Babcock & Wilcox Canada in Cambridge for 21.5 years and is currently the Manager of Training & Development. After earning his B.A. and M.A. from the University of Waterloo, he completed his Ph.D. in literature at the University of Saskatchewan. He then taught at university and community college in Saskatoon, before entering the private sector with a mining company. He is married to Carol, has a son and daughter, two step-children, and one grand-cat


Jack Paleczny.
I was in the Resurrectionists for 21 years, 12 of those as a priest, 3 of those as Rector of Resurrection College. As a layperson I worked with pregnant teens and persons with developemntal handicaps and as a hospital chaplain. Now I am minister at Trinity United Church, Kitchener (www.nonline.net/~trinity) Website has pictures and CV, as well as some GREAT sermons that I know you all will be dying to read!
I am married to Dianna Lynn, have two married step-sons and three grandchildren who melt my heart when they call me,"Grampa"! We live in Foxboro Green, just west of St. Agatha - the original home of St. Jerome's!



Jim Reinhart
Spent 4 yrs working at Marsland Engineering in Waterloo after
graduation. Met and married Jane Voisin from New Hamburg
arguably the best thing that ever happened to me. A
beautiful, smart, sweet and talented woman. We had two girls both now
married, two grand kids in Ottawa. I joined O.P.P. in 1970 and spent
28 yrs to the day there and finished up in Guelph .Other detachments
were Bradford & Oakridges -Aurora. Worked last 6 yrs at Spaenaur picking
orders part time and now work at Parkway Ford. (Off my feet and on my
butt where I belong) I deliver car parts. Jane annd I live in Kitchener in
Bridgeport. My one passion is water sports- boating in particular. We
tow the boat to Conestoga Lake

Don Schilling
After high school, I spent the summer working at J M Schneiders pickling meat. I decided I did not want to do that for very long, and I started with a CA firm in Waterloo. Then on to Preston, now Cambridge, with another firm, Brubaker Haller & Co, eventually acquiring the practice. Partnered with Don Laird as Schilling & Laird, until we recently merged with BDO Dunwoody. I have been counting beans for almost 40 years, and am looking forward to retirement in July 2007.
First marriage 1970 to 1999. I have two adult girls, and 2 grand kids, also girls. I married a wonderful woman, Dorothy, in 2001. We love to golf, curl, travel and spend time at the cottage. Now living in Guelph.
Looking forward to seeing the guys again.


Matt Scholtz
CEO of the Tillsonburg Public Library, Matt graduated in 1970 with a Masters of Library Science, moved to Tillsonburg and stayed. Married a Salvation Army officer and started a family (2 grown boys.). Besides administrator of the Library (www.ocl.net/tpl) Matt is the Secretary-Treasurer of the Tillsonburg Chamber of Commerce, writes 2 weekly (weakly) columns for the Tillsonburg News (www.tillsonburgnews.com) and is involved in local theatre. Currently, he is working on his third history of Tillsonburg.

Harry Skura
He plays viola with the Toronto Symphony Orchestra. When I played tuba for the Separate School orchestra he played violin. Harry confesssed that he did no studying in high school and managed to get through. Harry Skura graduated from the University of Toronto as a violinist with a Bachelor of Music Education in 1970. Studies with Terence Helmer of the Orford Quartet and William Primrose at the University of Indiana on viola led to positions in the Hamilton Philharmonic, the National Ballet Orchestra, and finally the Toronto Symphony Orchestra in 1975. Harry has recently accepted his first students on viola.



Myron Szewczuk
Received my Ph.D. degree in Biology & Immunology from Univ. of Windsor
I had Killiam and NIH Postdoctoral Fellowship in Cellular Immunology at
Cornell University Medical School in New York City. I was there for three
and half years.
My first appointment as an Assistant Professor of Pathology was at
McMaster University in 1978.
In 1981, I went to Queen's University and became tenured Full Professor
of Immunology and Associate Professor of Medicine in 1987. I am still at
Queen's teaching undergraduate and graduate students as well as medical
students and MD doctors with a specialty in Gastroenterology. I also have an
active research program where I train Ph.D. students in my laboratory in the
field of immunology.
I am married to Frances who I met at Univ of Guelph. We got married in
1973. We have two adult children Stephen and Theresa.
Both Frances and I are competitive Ballroom Dancers at the Pre-Champ and Champion level.
I have a URL of my home page at Queen's where you can download a recent
mug-shot of me: http://post.queensu.ca/~szewczuk/myron.htm


Mike Weber
I married the 'love of my life', Patti Kapron, the girl from WCI in '74. We have three adult children in whom we delight. . . Angela, married to Paul Wheaton, make their home in London England . . . Josh, currently teaching in Japan . . . and Alicia (soon to marry Scott), works for RIM.
I retired last June after having had the 'time fo my life' teaching at Resurrection High in Kitchener. Patti and I are now 'dabbling' as real estate salespersons in our retirement. . . mostly to buy plane tickets to visit our globe-trotting children.

Keith Wheeler
After high school and a short stint at University I went to work at Electrohome and was there for 10 years in the production engineering dept. With the downsizing in the late 70\'s, I had to pursue a different career. I joined the family business in 1977 and bought the business from my father in 1981. I have now been in business for 25 years.(soon looking for a retirement career)
I am married with 2 grown children and 4 step children. My wife and I like to travel and we have been to Europe on three occasions on bike tours.....France ,Austria and Spain. We also like to spend time at the cottage on Lake Huron.
Looking forward to the reunion and catching up on the last 40 years.

Louis Zister
From one of the older guys.From St.Jerome\'s I went to Stratford Teachers College and started teaching in Kitchener from 1966 to 1974. In 1966 I married my high school sweetheat Sharon Wigle.We have 4 children-Sharilou 39,Shelly 37,Sean 34 and Shannan 28. We also now have 5 grandchildren age 15 to 5 with a new one being born in July of this year.
In 1974 I left teaching to go into business with my in-laws. They owned KW Food Service. I worked with them until the business was sold in 1986. I left the business and started teaching again in Kitchener at St. Johns for 5 years and finished my teaching career at Resurrection High School in 2003. I\'m retired now and enjoying life to the fulless.We have travelled all over the world in the last 3 years and will continue for many years to come (I hope).
It will be good to see many of you at the reunion.
Lou Zister
Posted by: Matt
This Website
Who created this website?


It was put together by a person who might have been a next generation student at St. Jerome's - if there were a St. Jerome's and if he lived in Kitchener.


This website was prepared for the Committee by Stephen Scholtz, Matthew's 28 year old son. A MultiMedia Arts graduate of Sheridan College, Stephen now designs websites for a company in Toronto, while maintaining his own audio website at www.djshagz.com. If the .com is familiar, that's because our website is hosted on his server.


In putting together this website, Stephen was ably assisted by Mike Mazza, a native of Tillsonburg and graphic arts graduate of Sheridan.
Posted by: Matt